Intel vs AMD: which processor is better?
Intel vs AMD: which processor is better?
AMD vs. Intel has and will always be one of the great debates for PC users. Over the years, the majority of personal computers and laptops sold have been based on these fine processors. Which brings us to the battle between the AMD and Intel processors.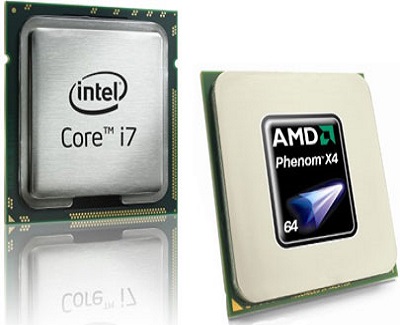 Any of this processor acts as the brain of your computer, it's essential you get the best processor for that PC of yours. This is why it's so important to find the one for your specific needs. Although, both processor [AMD and Intel] can still coexist, they cater to different audiences, with some direct competition in between. One of these two purveyors of finely-wafered silicon will produce the beating heart of your new laptop. AMD and Intel are just as different from one another as the products they produce.
With that in mind, let's dig into the details to find out which one would be the best choice for your new PC.
PRICE
With cost serving as a major factor in building, upgrading, or purchasing a PC, choosing the right CPU often comes down to finding the one that offers the best. In just price alone, AMD's chips are generally cheaper than comparable Intel chips. If you are looking for a more cost-effective processor, AMD processors may be the best bet. For students, budget gamers, and individuals with straight-forward computing needs, AMD processors are a great choice, they are powerful and fast enough for most while undercutting competitor pricing.On the higher end of the spectrum, Intel processors shine. If you are seeking performance that is at the upper range of the market, there is sure to be an Intel chip that suits your needs. You may pay more for it, and you may give up flexibility for this performance, but the processor itself will provide you with lightning speed, incredible capability, and beautiful graphics. In terms of outright power, it's hard to beat Intel processors.
GRAPHICS
Intel has officially started shipping its high-end H-series mobile CPU chips with AMD graphics on board. In turn, this means that hardier laptops powered by Intel can now be thinner and their accompanying silicon footprints will be over 50% smaller, according to Intel client computing group vice president Christopher Walker.
On the high end, such as in cases where you'll be pairing your CPU with a powerful AMD or Nvidia GPU, Intel's processors are typically better for gaming due to their higher base and boost clock speeds. At the same time, though, AMD provides better CPUs for multi-tasking as a result of their higher core and thread counts.
FUTURE THEORY
We all know AMD had a great year in 2017 with its Ryzen processors, especially the high end Threadripper processors. And, now that the Ryzen 2nd Generation CPUs have been released, AMD is claiming more and more of Intel's market share and, if AMD keeps putting out processors as good as the Ryzen 5 2600X and the Ryzen 7 2700X, we think this trend will only continue.
As for Intel, it continues to struggle with 10nm production, which has seen its Cannon Lake processors pushed back again and again. We're not sure when Cannon Lake is going to come out at all as Intel recently announced its 10nm Sunny Cove architecture, which will be behind whatever Ice Lake, Lakefield and a host of other chips we hope Intel will launch in 2019.
For most people, Intel is currently better than AMD as Intel processors offer a number of strengths as we've discussed above. However, AMD processors can do things that Intel chips can't.Ultimately, there is no "best" when it comes to answering the question, AMD or Intel? Both feature strengths and weaknesses. It is possible, though, to find a processor that better suits your individual needs.
Please follow and like us: